An acoustic enclosure is a soundproof enclosure designed to help reduce the noise generated by industrial machinery such as a GFM Machine. It works by blocking and absorbing the sound waves generated by the machinery and redirecting them away from the surrounding environment. The enclosure usually consists of sound-absorbing material such as insulation, foam, or other noise-control materials.
Ecotone Systems is an acoustic enclosure manufacturer that specializes in providing acoustic enclosures for industrial machinery. Their enclosures are specifically designed to provide superior noise reduction, allowing you to operate your machinery without the worry of disturbing your neighbors or the environment. Their enclosures are also highly customizable, so you can be sure that you're getting a perfect fit for your machinery. Additionally, their enclosures are made of durable materials that will last for years to come.
With an acoustic enclosure from Ecotone Systems, you can rest assured knowing that your machinery will be operating quietly and without disruption.
https://www.ecotone.in/blower-acoustic-enclosure/If you're looking for a sustainable and effective way to reduce noise from your GFM machine, then consider ordering an acoustic enclosure from Ecotone Systems. As an experienced acoustic enclosure manufacturer, Ecotone Systems offers high-quality soundproof enclosures that are easy to install and maintain.
When ordering an acoustic enclosure from Ecotone Systems, you can rest assured that you're getting a product that is tailored specifically to your needs. Their team of engineers will work with you to design the perfect enclosure based on your specific requirements, and will provide ongoing support throughout the entire process.
Ecotone Systems offers an array of different acoustic enclosures, and their team will help you find the best solution for your needs. Whether you need an outdoor or indoor enclosure, they have something to fit any situation. They also offer a variety of customizable features, including soundproof doors and windows, internal insulation, and more.
Once you've decided which acoustic enclosure is right for you, simply get in touch with Ecotone Systems to place your order. They can provide pricing details and a timeline for installation and delivery. When the enclosure arrives, their engineers will be available to help with any technical questions or issues.
Ordering an acoustic enclosure from Ecotone Systems is a great way to reduce noise pollution and protect your GFM machine. With their expertise and quality products, you can trust that you're getting the best solution for your needs. So, what are you waiting for? Contact sales@ecotone.in today to learn more about how to order an acoustic enclosure. Watch Gas turbine acoustic enclosure and blower acoustic enclosure project
ACOUSTIC / NOISE CONTROL ENCLOSURE
ANECHOIC / NVH TEST CHAMBERS
NOISE BARRIERS FOR HIGHWAYS / RAILWAYS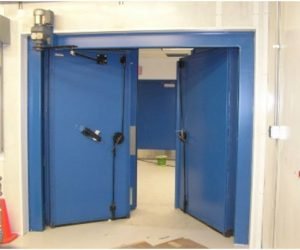 INDUSTRIAL NOISE CONTROL SOLUTIONS
A Sustainable Solution for Your GFM Machine: Acoustic Enclosure by Ecotone