Acoustic Enclosure Manufacturer |
SoundProof Enclosure
Project - Hyundai Motor Company
Ecotone Systems provides acoustic enclosure manufacturer in India. Soundproof acoustic enclosure for 5 KVA to 2000 KVA. We provide enclosures for every industrial noise problem for example we provide acoustic enclosure for turbines, compressor, air blower and glass crusher machines. We have expertise in controlling heavy machine Noise. soundproof operator Cabin, and Test Chambers, Sound Proof Enclosure, Turbine Acoustic Enclosure Manufacturers in India, compressor Enclosures, Room Acoustic, Acoustic treatment For Industrial Noise Control.
We are also India's leading and reliable manufacturers of plant noise control Acoustic products i.e. Noise Barrier, Acoustic hood, echo control baffles for noise echo control on the shop floor. We also design and manufacture Noise Test Chamber, NVH Booth, Anechoic Chamber manufacturers in India for Automobile and home appliance testing, etc.
Ecotone Systems provide a wide range of acoustical products which can also be customized as per client's choice. Our technical team is an expert to resolve your issue and to provide the best solution. Our Acoustic Enclosure Manufacturers in India comes with the advanced technology by which various kinds of challenges in terms of noise can be combated in a professional manner.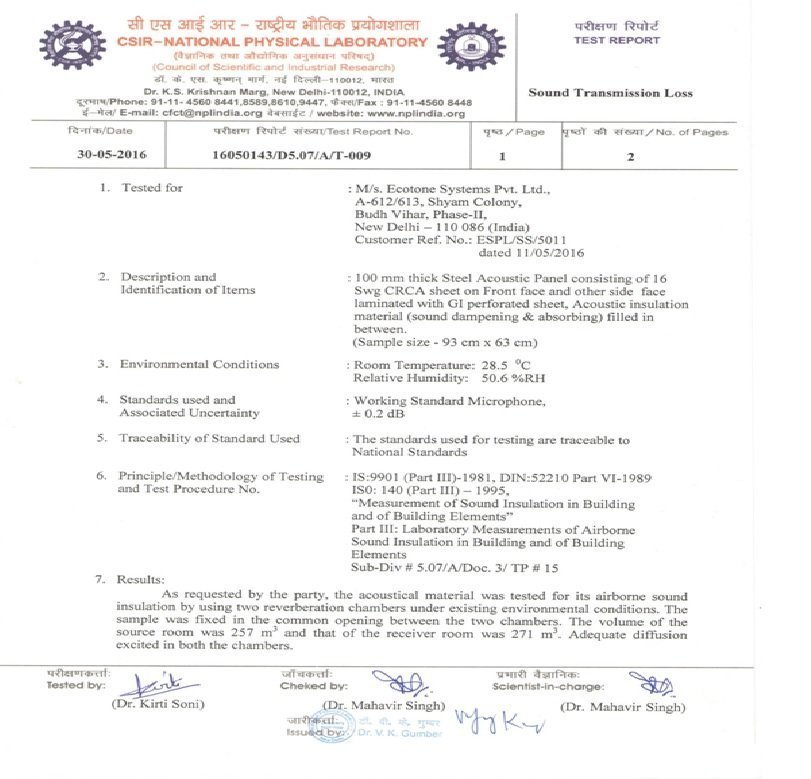 We, Ecotone system manufacturers, all types of soundproof enclosures, acoustic enclosures Manufacturers in India, compressor enclosures, generator canopies / enclosures, turbine enclosures, operators sound proof cabins, industrial acoustic enclosures Manufacturers in India, sound proof chambers, machine enclosures, sound proof rooms, industrial proof rooms, Noise Reduction, Heavy Machines Enclosure, Industrial Noise Control and Combined Soundproof Enclosure for Director General of Industrial Proof Rooms. And India's most trusted manufacturer for noise control, noise, vibration,  NVH test chambers, acoustics, architectural, auditorium, theater, conference hall, gymnasium hall, office, banquet hall, design and set-up. Studio, listening room, home theater etc.
Ecotone Systems is the largest manufacturer and provider of acoustic wall and ceiling products offering architects and building owners a wide range of products they choose, which suits their beauty as well as acoustic requirements. Acoustic Enclosure Manufacturers in India. Being one of the most integrated and comprehensive manufacturers in the field of acoustic enclosures, we are facilitating customers to eliminate unwanted noise that can create nothing but will hinder productivity of work.
Our acoustic enclosures come with advanced amounts of technology and provide you with many benefits that will help you maintain success in a way that makes you feel comfortable while facing a variety of challenges in terms of noise. Can be done in Manner.
Noise control is an important element of the design and manufacturing process in industrial, commercial or environmental systems. To achieve living comfort, designing a system to the required noise level requires practical knowledge, technical skills, and experience. We design soundproofing systems and make a complete line of modular engineered systems incorporating acoustic panels.
We design / manufacture all types of machine attachments to help reduce noise and achieve the desired noise level to make your workplace comfortable. These well-designed devices help people in a great way while adjusting for unwanted noise in a confined space so that you can focus more on important tasks without any disturbances leading to better performance and timely delivery. You do not have to worry about the performance and durability of technically designed acoustic enclosure manufacturers in India
The acoustic enclosure can be used in steel plants, power plants, cement plants, industrial sites and creates obstruction at the workplace wherever there is unwanted noise. Our team of trained and skilled technicians will carefully design the machine attachments using high quality metal sheets and proven technologies.
We at "Ecotone Systems" offer structural work designing of machines and generator acoustic enclosures, canopy, soundproof cabin and engineering side support incorporating layout and designing as well work out for acoustical structural and air ventilation requirements without impacting the DG acoustical performance. Ecotone systems offer Sound Proofing Solution for commercial, industrial & residential space. We also deal with Sound Proof Operator Cabin, Acoustically insulated ducts, Acoustic Louvers, Sound attenuators, Sound Proof Doors, Acoustic door, Acoustic Cabins, Acoustic Booth, Industrial Noise barrier to segregate noisy area from silent/office area.
Technical Features
We offer customized solutions in accordance with the ISO 14001 & CPCB norms of noise pollution.

50 STC Value Acoustic Panel tested as per IS-9901(Part III) – 1981, DIN 52210 part IV – 1984, ISO: 140 ( Part III) – 1995.

The Acoustic panels come with the feature of 16 gauge CRCA / GI perforated sheet.

Auto CAD facilities will include all kind of piece marked assembly along with the drawings

Two coat primer & automotive paint in desired shade

Electrical wiring, switch board & light to maintain 300 LUX inside the enclosure

Air Ventilation System for Fresh air inlet and hot air exhaust.

sound Proof Glass Vision panel to see through
Ecotone Systems deasign and provide Acoustic Enclosure  can be effectively used in multiple applications as mentioned below:
1. Air Compressor Acoustic Enclosure 
2. Air Blower Acoustic Enclosure
3. CNC Machine Noise Enclosure
4. Cement Panel Blower and Grinding machine  Noise Enclosure
5. Acoustic Enclosure for noise generating  machine
6. Power Press  and Fin press Noise Enclosure
7. Electrical Motor and Transformer Acoustic Enclosure
8. AC Fin Press Acoustic Enclosure
9. Punch Press Enclosure
10. Sound Proof Operator Cabin
11. Glass Crusher Acoustic Enclosure
12. Sheet Cutting Machine Acoustic Enclosure
13. Noise Testing  Chamber/ NVH Test Chamber/ Quiet Room
14. Engine Test Cell/ Dyno Test Cell Acoustic Treatment
15. Wind Turbine Noise Control  Enclosure
16. AC and Home Appliances Noise Testing Booth
17. Machine Noise Control Sound Barrier
18. Wire Winding Machine Acoustic Enclosure
19. Machine Enclosure along with Vertical Lift doors and "L" Type Doors
20. Anechoic Chamber
21. Semi/Hemi Anechoic Chamber conferming to ISO 3744 & 3745
22. Noise Test Booth for Conveyor Line and for  R&D Test Lab
23. Noise Barrier to control Industrial Noise
24. Industrial Silencer, Acoustic Louvers. sound Attenuators